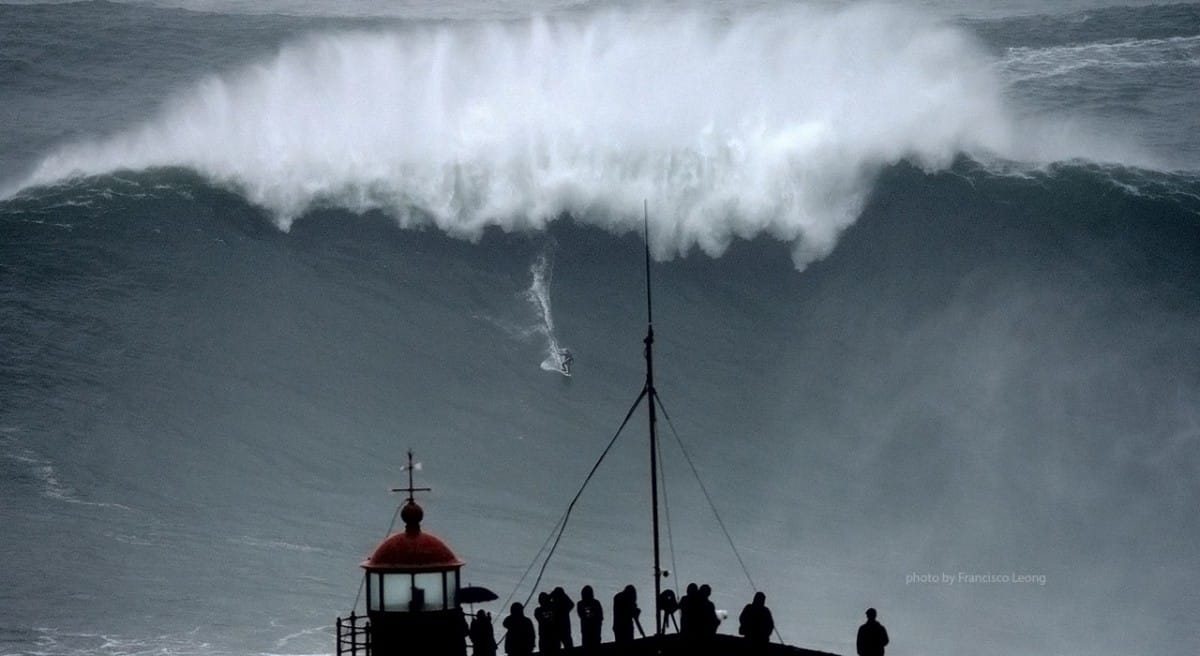 NAZARÉ PORTUGAL PRIVATE TRANSFER
Transfers up to 2 persons 270€ total (luggage equivalent - 3 bags)
Transfers up to 6 persons 370€ (luggage equivalent - 6 bags - upon inquiry)
Nazaré Portugal is most currently known as the city in Portugal that keeps making big wave headlines. Literally! In the last several years giant wave riders have broken world records over and over again off the coast of Nazaré. However, predating big wave surfers the little seaside town got its name from a statue of the Virgin Mary that was brought here allegedly from Nazareth. Later a miraculous intervention by the Virgin Mary saved the life of a Portuguese knight; and he had a church built where the statue once stood, on a cliff overlooking the Atlantic Ocean. Today that viewpoint attracts visitors for a multitude of reasons including big wave watching.
*If you are already in Portugal and need an immediate booking please text or call us at +351 912495005
Pick-up in Lisbon and drop-off to your desired location in Nazaré
Private transfer
Toll and Fuel costs
Meals & drinks
Personal expenses (souvenirs, etc)
Time and pick up locations are adaptable to accommodate your schedule
This is a private transfer for you and your travel companions only
Book today using our advance calendar below
For immediate booking, text or call at +351 912495005
Portugal transfers
FOR PAYMENTS WE ACCEPT
CASH, CREDIT CARD OR PAYPAL:
Clients Testimonials
Feedback about our services
5 of 5 stars I had planned a 5 hours visit to Lisbon, my flight was late, Jorge was waiting for at the airport for more than 2 hours, unfortunately, my trip was rsduced to three hours only. Jorge knew exactly where to take me and what to show me according to my profile, a very knowledgable guide, friendly and interactive. Highly recomended.

5 of 5 stars This was the first time I've used a personal tour guide and I have to say Jorge made the experience delightful. He was professional, courteous, and very knowledgeable in choosing the best spots to visit in the time we had available. I highly recommend him.

5 of 5 stars I can not say enough! We toured all day yesterday with Jorge! He was phenomenal! My husband ended up having a meeting in the morning, so I went by myself and toured Lisbon with Jorge. Perfect! Way better than sitting around the hotel waiting for the meeting to end. After his meeting was finished we took off for Fatima for the rest of the afternoon. We learned a ton and Jorge made sure we saw all of the main points along the way. It was a great first full day in Portugal and relief to be taken care of after fighting with changed flights the 2 days before. Thank you so much for making this trip so memorable!

5 of 5 stars This was the perfect way to spend my last day in Portugal. A friend had recommended Jorge's tour and I was not disappointed. I told Jorge what I wanted to see, and he made some suggestions and did the rest. As we were driving he pointed out places of interest and explained the history of Portugal. He knew the 'secrets' of each place we visited- such as being able to walk on top of the wall around Obidos, and the stairway below the lighthouse at Nazare. I never felt rushed, and thoroughly enjoyed the day. I would give Tours by Jorge ten stars- but five is the maximum allowed!

5 of 5 stars I just spent two days touring with Jorge....to Fatima and to Sintra. Very knowledgable, very courteous, an excellent and careful driver. His love of his country is obvious and he went out of his way to show me as much of it as we could fit in within our two day window. Very easy to understand, his English was excellent. On parts of the tour I was left to explore on my own. I liked that, particularly in Fatima, although others might prefer a guide that accompanies them every step of the way. I would definitely book with Jorge again. Quiet, humble, attentive. A gentleman.

5 of 5 stars Tours by Jorge was the perfect way to see some of the main site for our family. Our driver was perfect and knew all the great places to go. She was knowledgeable about the areas history and was able to make it relatable for us and what we were seeing. I would totally recommend Jorge and his group to anyone who is planning a trip Portugal.

5 of 5 stars Jorge is extremely knowledgable about his beautiful country. He took us on a historical and cultural tour of Lisbon, including a night of Fado. Then down through the Alentejo and all along the sunny Algarve. Everywhere we went, he dropped us into amazing rural tourism locations. From there we could do our own exploring too. He guided us to amazing local restaurants, wineries, beaches, surf waves, and so much more. Having someone who speaks the language is incredibly helpful! I highly recommend Tours by Jorge for any type of trip you're seeking...

5 of 5 stars Jorge met us at the airport, and made our 5 days in Portugal so easy and relaxing. Jorge was professional, knowledgeable and knew so many greats facts and history about the area. We so enjoyed our trip to Sintra. He surprised us with a special private wine tour, suggested a fabulous place for lunch, and showed us all the sites of the region. A perfect combination to make this a trip of a lifetime!

5 of 5 stars We wanted to see Lisbon but knew it'd be too difficult to navigate on our own so we chose Tours by Jorge because it didn't need to be a whole group, he was very accommodating and flexible and we couldn't have asked for more, he is informative and ever threw in a special treat of cherry liquor. We wanted to feel the culture of Portugal and he gave it and ended it with an excellent lunch at Atasca in Cascai! We highly recommend Tours by Jorge!

5 of 5 stars All day trip to Lisbon castle, center, Jesus monument, and Fatima went very smoothly with Jorge. Car was spacious and clean, and he was very accommodating to all our needs, including the two children. Provided us a phone to call him whenever we needed him back to pick us up that day, and he was super timely. Thanks for a great tour! We loved it.

Tours by Jorge is absolutely amazing! 5 of 5 stars Jorge is very professional, kind, knowledgeable and made my experience the best. Jorge is very respectable and a true gentleman. During the drives, Jorge gave very interesting history lessons on the beautiful country of Portugal and the towns that we visited. He stopped at various historic sites and allotted enough time to walk around, sightsee, take pictures and enjoy the moment. I fell in love with Lisbon and I know that Tours by Jorge made this happen. Jorge took us to some of the hidden gems of this beautiful country. I am forever grateful and will definitely be back to visit! I highly recommend Tours by Jorge to anyone visiting Portugal!

Tours by Jorge catered perfectly to our family tours. Jorge took us on several day trips including Sintra, Lisbon, wine tasting and southern coastal adventures. My husband and I enjoyed the depth of history instilled during the tours and our younger daughter enjoyed the balanced fun that was sprinkled though out. Everyone's needs were addressed and taken care of. Whether you design your own tour or leave it up to Tours by Jorge rest assured you will come away from your day feeling well taken care and richer for the experience. Jorge is professional, personable and easy to work with. Do yourself a favor and leave the logistics to Tours by Jorge, sit back and enjoy Portugal!

5 of 5 stars Tours by Jorge We have travel quite extensively through Europe and have many experiences with private tours and bus tours. So we are writing this review with the opportunity to express our gratitude to Jorge for the most complete tour we have ever taken. We were so impressed with his knowledge of his beloved Lisbon. Our only regard is we did not plan more time in Lisbon and trips with Jorge. Also we used Jorge for our transportation to the airport for a 3.30 AM pick up for our 6.00 am flight Based on our experience with Jorge we definitely are concerning a return to LISBON ONLY. Also with our experience with the detail of his tours we have advised our travel agent to advise any of their other customers that our planning to visit Lisbon to use his services for tours and transportation to and from the airports and cruise lines. With closing we cannot say enough of the day we spent with JORGE Donna & John

5 of 5 stars To whom ever reads this. I have lived in and visited many countries and I don't like wasting time and money when I go to new locations. Bus tours are good in some cases but there is nothing like this personalised tour offered here. Not only is Jorge a good and safe driver he is well informed about the sites and locations around Portugal. My wife and I decided to take a trip with Jorge and never experienced such anticpated requirements and professionalism. The car is luxurious and well kept and he ensures safety at any location you visit. Including where and what to eat in remote locations. We took his Fatima tour and diverted to a site which was not originally on track and where busses do not go. This was great! Not having to navigate sites based on # of people on a bus or schedules was also a very attractive component of this service. I would not hesitate to do this type of tour and with Jorge over the bus tour. The cost overall when you consider convenience and time is actually better than the bus tours offered. Do not think twice. Well done Jorge! Keep up the good work. You are doing your country proud.